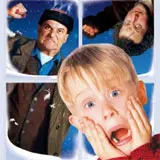 The Family Fun Edition of Home Alone, packed with bonus features, is now newly available on Blu-ray Disc in high definition audio and video. As a part of our week of Fox Blu-ray Disc giveaways, we have five copies looking for a new "home" so they aren't "alone" anymore.
For a chance to win one of the five Home Alone: Family Fun Edition's on Blu-ray, fill out and send in the form below. If you want to increase your odds to win, return each day this contest is active and enter again.
About the movie: Eight-year-old Kevin McCallister (Macaulay Culkin) has become the man of the house, overnight! Accidentally left behind when his family rushes off on Christmas vacation, Kevin gets busy decorating the house for the holidays. But he's not decking the halls with tinsel and holly. Two bumbling burglars are trying to break in, and Kevin's rigging a bewildering battery of booby traps to welcome them!