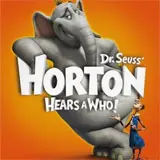 Fox's Dr. Seuss' Horton Hears a Who! CGI-animated film starring the voices of Jim Carrey and Steve Carrell raked in just shy of $155 million domestically at the box office. Now you'll have a chance to take home the just-released high definition Blu-ray Disc edition.
In this hump day giveaway during our week of Fox Blu-ray Disc giveaways, five winners will have Horton Hears a Who! delivered to their home. For a chance to be one of the chosen winners, fill out and send in the entry form below. Returning each day the contest is running to enter again is encouraged as it will increase your odds of winning. Good luck!
About the film: The imaginative elephant Horton hears a cry for help coming from a tiny speck of dust floating through the air. Suspecting there may be life on that speck and despite a surrounding community which thinks he has lost his mind, Horton is determined to help.