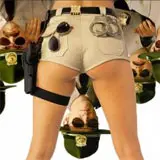 In our second of five Blu-ray Disc giveaways this week, Fox is serving up five copies of the hilarious Broken Lizard comedy Supertroopers.
For a chance to win Supertroopers on Blu-ray, fill out and send in the entry form you see below. That's it. Should you want to increase your odds of winning, be sure to return every day this contest is active and enter again. Good luck, trooper.
About the flick: Always looking for action, five over-enthusiastic, but under-stimulated Vermont State Troopers raise hell on the highway, keeping motorists anxiously looking in their rear view mirrors. Between an ongoing feud with the local cops over whose you-know-what is bigger and the state government wanting to shut them down, the Super Troopers find themselves patrolling the boundaries of good taste as they hilariously and unwittingly skid towards solving the crime of their lives.