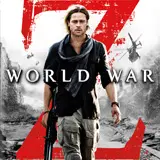 Brad Pitt fights for his and humanity's survival in the zombie apocalypse film World War Z, freshly released on Blu-ray 3D, Blu-ray and DVD. We have teamed up with Paramount Home Entertainment to hook three of you up with the intense film completely on the house.
One lucky grand prize winner will win the World War Z Blu-ray and DVD combo autographed by Mireille Enos and James Badge Dale. A pair of runner-up winners will also take home the Blu-ray and DVD combo, only sans the autographs.
For a chance to win one of these cool World War Z prizes, please fill out and submit the entry form below. The odds of winning can be increased each and every day you stop back to enter again for as many days as the contest is open. You must be a resident of the U.S. or Canada to enter. Good luck!
A former UN investigator is thrust into the middle of trying to stop what could be the end of the world. Worldwide destruction sends him around the globe seeking clues about what they are fighting and what it will take to defeat it, as he tries to save the lives of billions of strangers, as well as his own beloved family. Extras include:

Orgins
Looking to Science
WWZ: Production
Outbreak
The Journey Begins
Behind The Wall
Camouflage