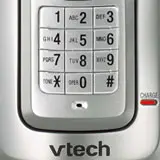 Have you ever been wandering your house after chatting on the phone and wanted quick and easy access to information you'd typically have to sit down at a PC to find? If so then the new VTech ip8300 cordless phone is for you.
VTech has been gracious enough to offer one of these slick new Internet-capable VTech ip8300 land-line phones (MSRP: $129.95) to us to give away to one lucky winner. The entry form and additional information on the phone is below. Remember to return each day to enter to increase your odds of winning. Good luck!
Information at Your Fingertips
The new ip8300 infoPhone uses the Internet to access information directly on the cordless handset's color LCD screen, including news headlines, weather reports, horoscopes, local directory searches and more. The infoPhone has a dedicated key for one-touch access to personalized, valuable information – sports fans can see the latest scores for their favorite team and busy parents can easily check the local weather before dressing kids for school. The ip8300 bypasses the need for a computer to get these updates since it is connected to the Internet via a dedicated connection in the phone system's base station.
Constant Access to E-mail and Instant Messenger
E-mail users can stay in touch with friends and family using the infoPhone's ability to send and receive both e-mails and instant messages directly from their cordless handset without relying on a computer. Using the innovative features on the ip8300, users can sign in to their accounts for quick access to e-mail communications, instant messages and buddy list updates.
Casabi Partnership for Information Delivery and Optimization
VTech has partnered with Casabi to provide an easy-to-use, network-based interface for access to Internet information and services from the phone. Casabi also provides an online web portal that enables users to choose and organize the information to be sent to the handset. Additionally, the Casabi portal can be used to personalize the phone with ring tones and wallpapers for each member of the family. Upon login to the infoPhone, the user's preferences are automatically updated on the handset.
New DECT 6.0 Technology
The new ip8300 uses DECT 6.0 technology, which operates on the 1.9 GHz frequency. Though newly approved in the United States, this frequency has been used for many years in Europe and greatly increases call clarity and security. The Wi-Fi friendly DECT technology easily integrates into homes with Internet and Wi-Fi services, because the 1.9 GHz frequency is not used by other wireless technologies.
Wi-Fi Calling and Information Delivery
VTech's wf6972 802.11 Wi-Fi phone system comes with software that allows the handset to receive information wirelessly from the PC. Using 802.11 technology, users can wirelessly access news headlines, sports scores and weather updates directly on the cordless handset, which also offers standard land-line capabilities.