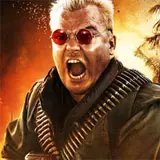 New this week on Blu-ray Disc and DVD is the hilarious and quite dirty new comedy Tropic Thunder starring Ben Stiller, Robert Downey Jr. and Jack Black.
We've teamed up with Paramount Home Entertainment to offer one lucky reader the opportunity to have the new director's cut Blu-ray Disc version of Tropic Thunder show up on their doorstep on us. All you have to do for a chance to win is fill out and submit the entry form below. Returning daily to enter again as long as the contest is active guarantees increased odds of taking home the prize.
About Tropic Thunder: An action comedy about a group of self-absorbed actors who set out to make the most expensive war film. After ballooning costs force the studio to cancel the movie, the frustrated director refuses to stop shooting, leading his cast into the jungles of Southeast Asia, where they encounter real bad guys.