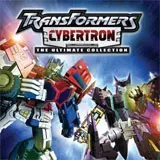 Before Michael Bay put his stamp on Transformers there were, and continue to be, a myriad of television shows based on the brand. In this giveaway we're giving away seven discs worth of one incarnation, Transformers Cybertron, to five lucky winners.
All you have to do for a chance to have Transformers Cybertron: The Ultimate Collection on DVD show up at your doorstep is send in the quick entry form below. Once entered you can still return each day and enter again to increase your odds.
About Transformers Cybertron: The Ultimate Collection DVD: Optimus Prime and the Autobots face the greatest danger in all eternity, a menace that threatens not only the survival of the Transformers, but the very existence of CYBERTRON and the universe itself. CYBERTRON, the TRANSFORMERS home planet is on the brink of destruction as an ominous Black Hole looms. In order to save their world, the TRANSFORMERS embark upon an intergalactic scavenger hunt across the universe searching for the lost Cyber Planet Keys. The evil DECEPTICONS, villains unlike any you have seen before, are in a race against the Heroic AUTOBOTS to recover these lost Cyber Planet Keys – keys that have the power to unlock the CYBERTRON planet itself, creating the greatest TRANSFORMER the universe has ever seen! The battle will span the galaxy in a race to wield the all powerful Planet Keys and to save their home world of CYBERTRON from certain DOOM!!