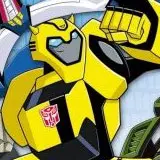 Hasbro has targeted a new generation of younger kids to expose to Transformers with the new Transformers Animated cartoon. Paramount has packaged several season one episodes together in the Transformers Animated: Transform and Roll Out DVD, the first appearance of the pudgy bots on home video.
You can have a chance at rolling out with one of these discs by filling out and submitting the form below. We'll pick 5 lucky winners who will find a Transformers Animated: Transform and Roll Out DVD waiting on their doorstep shortly thereafter. You can even enter daily to greatly increase your odds of winning. Good luck!
About Transformers Animated: A ragtag group of AUTOBOTS led by OPTIMUS PRIME are in a remote sector of CYBERTRON cleaning space bridges when they stumble upon the most import artifact in TRANSFORMERS history; the ALLSPARK! The DECEPTICONS who are only scary myths for many AUTOBOTS are in hot pursuit of the ALLSPARK; now this new band of AUTOBOTS must fight for their lives and the future of CYBERTRON. The AUTOBOTS are able to escape the DECEPTICONS and crash land on an unknown planet called Earth. They land in Lake Erie and remain in stasis for 50 years. Meanwhile MEGATRON sabotaged by STARSCREAM lost the ALLSPARK and fell to Earth in scattered pieces. A young scientist named Isaac Sumdac discovers him and uses his technology to create the modern robotics industry in Detroit. The AUTOBOTS awaken from stasis during an emergency. Deciding to help the new organic life forms they convert into emergency vehicles and fight off a scary creature. Unable to stay in disguise they change into their robot forms able to save the day!