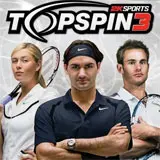 We've got a fantastic new giveaway for you today courtesy of 2K Sports. One Grand Prize Winner will walk away with a copy of just-released Top Spin 3 on the console of their choice (Xbox 360, Playstation 3 or Nintendo Wii), a Top Spin Track Jacket, and copies of MLB 2K8, NBA 2K8 and just-released Don King's Prizefighter boxing game, also for the system of their choice.
Not to be left out are two runner-ups that will also score a copy of Top Spin 3 on the console of their choice.
Entry for a chance to win is as simple as filling out the short form below and sending it to us. You'll want to return each day this giveaway is running to enter again as each entry will greatly increase your odds of winning. This contest is restricted to residents of the US only. Good luck!
About Top Spin 3: Compete against the pros with Top Spin 3. Play online or offline to rise in the ranks against current top ranked professional players. This is a visually and physically realistic tennis experience. Using next generation technology, gameplay and graphics, Top Spin 3 features dynamic weather changes, evolutionary player visuals and comprehensive online offerings. With a unique user-generated component, you can also use new player creator features that include free-form body sculpting, makeup and tattoos. Create matches online and test your skills against friends or other ranked players around the world.