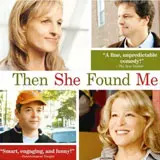 The ensemble cast of Matthew Broderick, Colin Firth, Bette Midler and Helen Hunt, who also happens to be in a feature film's director's chair for the first time, comes to Blu-ray and DVD on September 2 in Then She Found Me.
We have a copy of Then She Found Me on Blu-ray Disc from Thinkfilm to issue to a lucky HDR reader. Simply fill out and send in the entry form below for a chance to win. For increased odds of winning, return each day and enter again. Good luck!
About Then She Found Me: An all-star cast with memorable performances by Helen Hunt, Matthew Broderick, Bette Midler and Colin Firth powers this smart, funny drama about love and destiny. Desperate to start a family, schoolteacher April Epner (Hunt) is thrown into confusion when she is unexpectedly abandoned by her husband (Broderick). She gets another shock when she meets her unusual birth mother (Midler), a self-centered talk show host who's not exactly the ideal mom. At first she rejects her, along with the attentions of a divorced dad (Firth), until she finds her life opening up in ways she had never imagined.