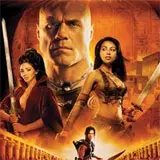 Trace the origins of the Scorpion King in the new direct-to-video sequel, The Scorpion King 2: Rise of a Warrior, now available on Blu-ray Disc and DVD from Universal Studios Home Entertainment.
We've got two copies of the flick on Blu-ray Disc to hand over to the randomly picked winners of this contest. For a chance to win, simply fill out and submit the entry form below. Odds of winning can be increased by returning each day and entering again. Good luck.
About The Scorpion King 2: Rise of a Warrior: See how the legend of The Scorpion King began! When a young Mathayus witnesses his father's death at the hands of the king (UFC Champion Randy Couture), his quest for vengeance transforms him into the most feared warrior of the ancient world. From the director of Resident Evil: Extinction and Highlander comes a heroic adventure filled with heart-stopping action and thrilling visual effects!