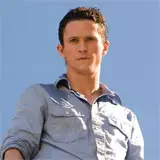 Paramount Home Entertainment has just released The Ruins on DVD and Blu-ray Disc in an all-new unrated cut that boasts extra gore and an ending not seen in theaters.
We've teamed up with Paramount to offer up 5 copies of The Ruins on DVD to the lucky folks randomly chosen to win this giveaway. All you have to do for a chance to win is fill out and submit the easy entry form below. You'll want to make sure to return each day and enter again to increase the odds your name is pulled. Good luck!
About The Ruins: Based on the terrifying best-seller by Scott Smith, "The Ruins" follows a group of friends who become entangled in a brutal struggle for survival after visiting a remote archaeological dig in the Mexican jungle where they discover something deadly living among the ruins. "The Ruins" stars Jonathan Tucker ("Texas Chainsaw Massacre", "The Black Donnellys"), Jena Malone ("Pride and Prejudice", "Donnie Darko"), Shawn Ashmore ("X-Men: The Last Stand"), Laura Ramsey ("She's the Man") and Joe Anderson ("Across the Universe").