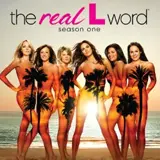 Showtime has taken the L Word into the reality tv real with The Real L Word, a new series whose first season has recently debuted on DVD.
We've got one copy of The Real L Word: Season One on DVD up for grabs in this daily entry contest. For a chance to win it, please fill out and submit the short entry form below. The odds of being picked the winner are increased each day you stop back to enter again for as many days as the contest is open.
Fabulous, fashionable and completely "hot," The Real L Word is reality TV that only Showtime can bring you. Meet six of the most gorgeous, powerful, and fascinating lesbians of LA. They live life within the glamorous inner circle of Hollywood and no matter who you are, it won't be long until you're caught up in their drama. The Real L Word, where truth is juicier than fiction could ever be.