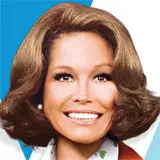 The seventh and final season of The Mary Tyler Moore Show co-starring Ed Asner, Betty White, Valerie Harper, Ted Knight and Gavin MacLeod is now available on DVD from Fox Home Entertainment.
To coincide with its recent October 5 release, we've teamed up with Fox to offer five of you the opportunity to take home The Mary Tyler Moore Show: Season Seven on DVD. For a chance to win one of the box sets, please fill out and submit the short entry form below. You can encouraged to return any or, better yet, every day the contest is open to enter again and increase the odds of winning with each additional entry.
The final season of the enduring classic includes such series milestones as the birth of Ted and Georgette's baby, Murray's tenure as a producer, Mary's date with Lou, and the show's bittersweet final episode, where the gang bids one last farewell to WJM-TV and each other. Winner of 29 Emmy Awards, including three for Outstanding Comedy Series, and three Golden Globe Awards, the beloved show made television history by depicting a strong and independent woman fighting to make a place for herself in a man's world and gave rise to some of television's most memorable characters. Featuring 24 episodes, the collectible three-disc set also includes the never-before-available and fan requested 'Final Curtain Call', which aired only once on March 19, 1977.