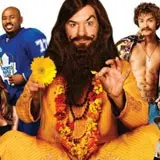 The Love Guru with Mike Myers and Jessica Alba took a beating at the box office and hopes to redeem itself on DVD and Blu-ray courtesy of Paramount Home Entertainment. We've got five copies of the new DVD to hand over to the curious winners of this contest.
Taking home The Love Guru on us is as easy as sending in the entry form below and hoping your name is drawn. You can return each day the contest is running and enter again to up the odds of winning.
About The Love Guru: A hilarious comedy starring Mike Myers as guru Pitka in his first original character since the blockbuster hit Austin Powers. Myers plays an American raised in India by gurus (Tugginmypudha & Satchabigknoba) and returns to the U.S. in order to break into the self-help business. His unorthodox methods are put to the test when he must settle the romantic troubles and subsequent professional skid of a star hockey player (Romany Malco), whose wife left him for a rival athlete Jacques Grande (Justin Timberlake). Mini Me is back from Austin Powers and plays the hockey coach for more classic comedic moments that will have audiences laughing from opening to closing credits.