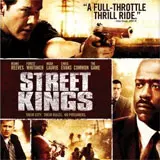 On August 19, Twentieth Century Fox Home Entertainment released the Keanu Reeves thriller Street Kings on Blu-ray Disc. We've been given five copies of the new release in high definition to issue to the lucky random draw winners of this contest.
You'll need to fill out and submit the entry form below for a chance to win. Odds of being chosen can be increased by returning each day and entering again. Good luck!
About Street Kings: Gripping performances by Keanu Reeves and Academy Award winner Forest Whitaker power this explosive urban crime thriller, in which a veteran cop finds himself ensnared in a deadly web of conspiracy and betrayal. Reeves stars as Tom Ludlow, a hard-nosed detective still reeling from the death of his wife. When evidence implicates him in the execution of a fellow officer, Ludlow realizes his own life is in danger and he can trust no one.