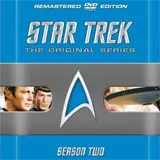 On August 5, Paramount Home Entertainment will release the much anticipated second season of the original Star Trek in an all-new remastered DVD set. The picture has been completely remastered and new special effects added to make this the best every 1311 minutes this Trek season has ever looked.
We've excited to be giving away five copies of this huge set to the lucky winners chosen at random. To enter all you need to do is send in the short entry form below. You can even return each day and enter again for increased odds. Good luck!
About Star Trek Season Two: "Space…The Final Frontier. These are the voyages of the Starship, Enterprise. Its 5-year mission: to explore strange new worlds, to seek out new life and new civilizations, to boldly go where no man has gone before !" The series is set in the 23rd century where Earth has survived World War III then moved on to explore the stars.