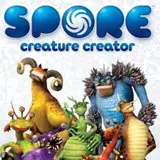 On September 7, Electronic Arts will release the latest masterpiece from legendary game designer and father of The Sims, Will Wright.
With Spore, Wright has taken the concept of creating and manipulating life to an intergalactic level where players can begin with a microbe and play right through to alien space explorers. The universe will be built one life form at a time.
We've got two copies of the Spore Creature Creator to giveaway that will entitle you to a head start on the full game. With the Creature Creator you can do just that: begin creating the creatures that will inhabit Spore and share them with your friends.
For a chance to win, simply fill out and submit the entry form below. Then return each day to up your odds of being chosen. Good luck!
Spore, the highly anticipated game from the creators of The Sims, gives players their own personal universe in a box. Create and evolve life, establish tribes, build civilizations, sculpt entire worlds and explore a universe created by other gamers. Spore gives players a wealth of creative tools to customize nearly every aspect of their universe: creatures, vehicles, buildings, and even UFOs. Players can then seamlessly share their creations with the world or explore infinite new galaxies created by other gamers.