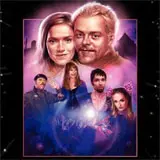 Before Hot Fuzz and Shaun of the Dead there was Spaced, the sitcom series that launched the careers of Simon Pegg, Jessica Hynes, Nick Frost and director Edgar Wright.
We've got 3 copies of the British import on DVD, now available in stores from BBC Home Video, that we're delighted to hand over to the winners of this contest. In order for you to be one of the chosen few you must enter the contest via the form below. Not feeling lucky enough? Then return each day and enter again to up your odds of winning. Good luck!
Spaced revolves around two idle twentysomething flatmates – immature skateboarding would-be comic artist Tim (Simon Pegg), and moody, responsibility-shy Daisy (Jessica Stevenson), and their self-induced lack of success in employment, relationships and life in general. Together with their oddball assortment of friends and neighbors, Marsha, Brian, Mike and Twist, they exist in a world perched precariously on the edge of normality.