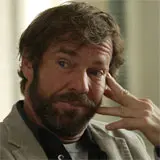 Critics raved about how smart and funny Smart People is during its theatrical run, and now you'll get a chance to have a copy of the DVD debuting August 12 shipped directly to your door.
Tossing your name in the hat in hopes of winning one of the three copies up for grabs is easily achieved by filling out and submitting the short entry form below. We recommend returning each day and entering again as it will up your odds of winning quite a bit. Good luck!
About Smart People: From the producer of Sideways — get to know a lovable yet dysfunctional family everyone can relate to in this lighthearted comedy.
When Lawrence Wetherhold (Dennis Quaid) — a widowed and self-absorbed professor — falls for his attractive former student (SEX AND THE CITY's Sarah Jessica Parker), his all-too-predictable life suddenly turns sunny side up. That is, until his freeloading brother (Thomas Haden Church) and his sharp-tongued overachieving daughter (JUNO's Ellen Page)speak up, making "chaos" the word of the day. Now on DVD, SMART PEOPLE is even funnier with never-before-seen interviews, deleted scenes and hilarious outtakes.