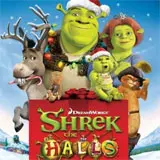 Paramount Home Entertainment has just released the hilarious Shrek the Halls on DVD as it originally aired in 2007 on television.
You can win one of five copies of this special that includes a 12 Days of Christmas featurette, Deck the Halls featurette, Gingy Dunking Game, Shrek Carnival Craze Video Game Demo and Cheat Code.
To enter you'll need to fill out the entry form below. That's it, unless you want to increase your odds of winning. In that case, you'll want to return each day this contest is active and enter again. Good luck!
About Shrek the Halls: The Christmas tree isn't the only thing green in this new holiday classic. Shrek is back and trying to get into the spirit of the season. After promising Fiona and the kids a Christmas they'll remember, he is forced to take a crash course in the holiday. But just when he thinks he has everything for their quiet family Christmas just right, Donkey, Puss in Boots, Gingy and the rest of the gang decide to crash the party. Shrek the Halls is the greatest holiday tale that's never been told… until now.