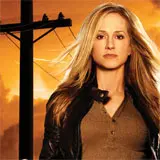 On July 15, Twentieth Century Fox Home Entertainment will release the complete first season of Saving Grace starring Holly Hunter on DVD.
We've got a pair of the TNT drama on DVD to offer to the lucky winners of this contest. Fill out and submit the entry form below for a chance to win. Return each day and enter again to increase your chances. Good luck!
About Saving Grace: Grace Hanadarko (Holly Hunter) is a hard-living Oklahoma City detective whose life is careening dangerously out of control. After killing a man in a drunken car crash, Grace is given a second chance in the unlikely form of a gruff, tobacco-chewing angel named Earl whose job is to help her turn her life around. But divine intervention doesn't come easily. As dark secrets are revealed, Grace must come to grips with her explosive past.