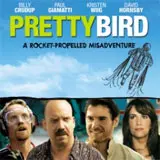 New on home video is Pretty Bird from Paramount Home Entertainment, a comedy starring Paul Giamatti, Billy Crudup, Kristen Wiig, Anna Camp and David Hornsby that was nominated for a Grand Jury Prize at the 2008 Sundance Film Festival.
We are going to award one lucky reader Pretty Bird on DVD as randomly chosen in this giveaway. To enter for a chance to win, fill out and submit the entry form below. The odds of winning can be increased by returning any or every day the contest is running to enter again.
Based on a true stoy, this comic tale of three would-be entrepreneurs set out to invent a rocket belt. The venturesome partnership soon takes an unhealthy toll as their mismatched personalities clash and some unexpected success lead to retaliations and kidnapping in this parable of American dreams and delusions.