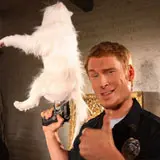 No one can resist trying to win Uwe Boll's latest videogame-to-film adaptation. If you try to the man, the myth, the legend of smack talking Hollywood's Elite will cut his next video about you.
In all seriousness, we've got three DVD and three Blu-ray Disc copies of Postal to dish out to six winners of this contest. The entry form is below which you can submit once per day, as is a description of Uwe's latest anti-Hollywood effort.
About Postal: Follows two days in the life of the Postal Dude, in the regrettably named town of Paradise. Just when he thinks he has hit rock bottom, things get worse. Sharing a trailer with his ever-expanding wife, Bitch, Dude is in a bad way. After a humiliating job interview and a nearly lethal trip to the welfare office, Dude finds himself on the doorstep of his Uncle Dave. Despite being the successful leader of the town cult, Dave is also finding himself in financial difficulties.
Together, Dude and Dave hatch a plan to steal some valuable merchandise. Unfortunately for them, the much better organized and much better equipped Taliban has converged on Paradise for more sinister reasons. Things spiral out of control when Osama Bin Laden is forced to call in his friend George W Bush as back up. Few are left standing by the time Dude turns his back on Paradise. Dude quickly learns how liberating it can be when there is nothing left to lose. He learns never to trust a messiah, especially when that messiah has written his own bible. He learns that you can find love in the most unlikely places, even when the object of your affections is holding a gun to your head. Most importantly, he learns that there is nothing that a well timed nuclear explosion can't solve.