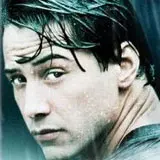 Twentieth Century Fox Home Entertainment is releasing the surfer/crime thriller Point Break (Pure Adrenaline Edition) starring Patrick Swayze and Keanu Reeves July 1 on Blu-ray Disc, marking the film's high definition home video debut.
Fox has been gracious enough to supply five copies of this new release to the winners of this random draw contest. You can be in the running to have one of the prizes delivered to your door by entering via the form below. Odds are greatly increased by returning each day to enter again until the contest closes.
About Point Break: Young FBI agent Johnny Utah (Reeves) goes undercover at the suggestion of his partner (Gary Busey) to learn if a group of wild surfers is actually a gang of bank robbers. He soon comes under the dangerous spell of the surfers' charismatic leader Bodhi (Swayze) a mystical mastermind who'll do absolutely anything for a thrill – and expects his followers to do the same.