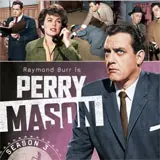 We've teamed up with Paramount Home Entertainment to offer five lucky readers the chance to have a copy of Perry Mason: Season Three Volume One on DVD shipped to their home on us.
If this sounds like a good deal not even Perry would turn down then listen closely. All you have to do is enter this giveaway via the short below and hope your name is randomly drawn. You can also return and enter each subsequent day to greatly increase your odds of winning. Good luck!
About Perry Mason: Perry Mason is an attorney who specializes in defending seemingly indefensible cases. With the aid of his secretary Della Street and investigator Paul Drake, he often finds that by digging deeply into the facts, startling facts can be revealed. Often relying on his outstanding courtroom skills, he often tricks or traps people into unwittingly admitting their guilt.