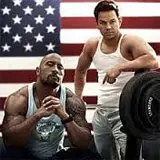 Michael Bay's Pain & Gain starring Mark Wahlberg, Dwayne Johnson and Anthony Mackie (the upcoming Marvel film Captain America: The Winter Soldier) pumps its way into theaters on Friday, April 26. It's a intriguing film in that it marks a hiatus for Michael Bay from his typical huge budget summer tentpole films, and though the concept about bodybuilders-turned-criminals seems ludicrous, it happens to be based on a true story.
We have teamed up with Paramount Pictures to offer a pair of sweet promotions for the film's release. First up is a pile of Pain & Gain swag including a shirt, sweatbands, water bottle, and towel that will be awarded to two lucky winners. To enter for a chance to score some swag, please fill out and submit the short entry form below. This is a daily contest so the odds of winning can be increased each and every day you stop back to enter again for as long as the contest is open. You must be a resident of the U.S. or Canada to enter.
Next is a very small window of opportunity for residents of Phoenix, Arizona or Las Vegas, Nevada to attend an early screening of Pain & Gain the evening of Tuesday, April 23. There's no contest involved here. Simply visit the appropriate link below and secure your free passes after creating a free user account at Gofobo (quick and easy). First come, first serve!
Phoenix, Arizona April 23 free screening passes click here
Las Vegas, Nevada April 23 free screening passes click here