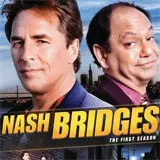 Paramount Home Entertainment has begun offering the successful television show Nash Bridges on DVD with the recent release of Season One. We've teamed up with Paramount to offer five sets of this first season to five lucky HDR readers.
For your chance to win, simply fill out and submit the quick entry form below. You can return daily and enter again as long as the contest is active for increased odds of winning. Good luck!
About the show: Nash Bridges (Don Johnson) is a high-action drama about a San Francisco police investigator who deserves his reputation as a topnotch cop, but who's not always so successful when it comes to his personal life. As a member of the elite Special Investigations Unit, Nash relies on his streetwise instincts, keen sense of humor and charm to work his magic on the streets of San Francisco.