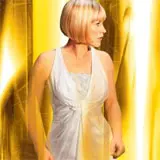 We're giving away five copies of the fourth season of Medium on DVD that includes 682 minutes of the popular television drama starring Patricia Arquette.
You can enter for a chance to win one of the sets by filling out the form below and hitting submit. You can also return each day and enter again as long as the contest is running to increase your odds of winning. Good luck!
About Medium: Allison Dubois (Arquette) is a strong-willed, devoted young wife and mother of three girls, who has gradually come to grips with her extraordinary ability to talk to dead people, see the future in her dreams and read people's thoughts. This season, Allison and her family's world is turned upside down after her abilities are publicly exposed, resulting in sweeping changes both professionally and personally. For the past three seasons, Allison has served as a part-time consultant to the district attorney's office in Phoenix, Ariz., using her psychic abilities to solve violent and horrifying crimes that have mystified authorities, including her now former boss D.A. Devalos (Miguel Sandoval, "The Division") and others within the criminal justice system. Jake Weber ("Meet Joe Black") stars as Allison's exceptionally supportive husband Joe, an aerospace engineer, also left looking for work after recent traumatic events. Sofia Vassilieva ("Eloise at the Plaza") and Maria Lark ("10.5") star as Ariel and Bridget, the two eldest Dubois children, who both share their mother's psychic gift to varying degrees. David Cubitt ("10.5: Apocalypse") stars as Detective Lee Scanlon and Madison Carabello plays the Dubois' youngest daughter, Marie. Academy Award-winning screen legend Anjelica Huston ("Prizzi's Honor") will guest star this season as Cynthia Keener, an investigator for a national firm called "Ameritips," who strikes an unusual professional arrangement with Allison for her crime-solving abilities.