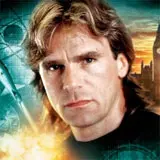 TV's original MacGyver (Richard Dean Anderson) has a new DVD release that includes a pair of made-for-television movies: The Lost Treasure of Atlantis and Trail to Doomsday.
We are going to award one of you this new DVD, MacGyver: The TV Movies, as randomly chosen in this giveaway. Fill out the entry form below for a chance to win. The odds of being selected a winner can be increased each and every day you return to enter again for as long as the giveaway is running.
MacGyver – The Lost Treasure of Atlantis: MacGyver is called on by his former archaeology professor to help verify the legend of the lost city of Atlantis and to recover its treasure. MacGyver – Trail to Doomsday: While investigating the death of his best friend, MacGyver uncovers a shocking conspiracy to hold the world hostage to terrorism.