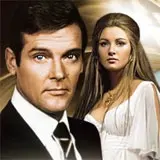 On October 21, classic Bond made its Blu-ray debut in style with re-mastered transfers, lossless audio and numerous HD extras.
Our first James Bond on Blu-ray contest to go along with these releases was all about Sean Connery as 007. For this second one we've zeroed in on Roger Moore in Live and Let Die and For Your Eyes Only, both of which will be issued to one lucky winner of this contest.
To put your name into the pot, fill out all the fields in the form below and send it in. If one entry isn't enough, return each day and enter again as long as the contest is running to greatly increase your odds. Good luck!