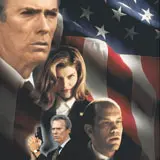 On July 1, Sony Pictures Home Entertainment will release Wolfgang Petersen's In the Line of Fire starring Clint Eastwood, John Malkovich and Rene Russo on Blu-ray Disc.
In the Line of Fire on Blu-ray includes a feature-length audio commentary with director Wolfgang Petersen; The Ultimate Sacrifice documentary; Behind-the-Scenes with the Secret Service, How'd They Do That? and Catching the Counterfeiters featurettes; and deleted scenes.
In conjunction with Sony Pictures Home Entertainment, TheHDRoom is giving away five copies of this new Blu-ray Disc release to the lucky winners in this giveaway. For your chance to win, fill out and submit the short entry form below. Odds of winning are greatly increased by returning each day the contest is active to enter again. Good luck!