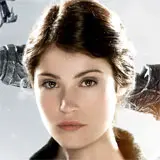 Paramount Home Entertainment released Hansel & Gretel: Witch Hunters starring Jeremy Renner, Gemma Arterton and Famke Janssen on Blu-ray 3D, Blu-ray and DVD in a new unrated cut this past week, taking the classic fairy tale to an even darker place.
We have teamed up with Paramount to offer some cool prizes tied into the Hansel & Gretel: Witch Hunters home video debut. One grand prize winner will score the Hansel & Gretel: Witch Hunters Blu-ray and DVD combo pack signed by Gemma Arterton as well as a milk carton filled with candy and decorated with some humorous missing kids sketches. Two other winners will win the same two items sans the Gemma Arterton ink.
For a chance to be picked as one of the three winners, please fill out and submit the short entry form below. The odds of winning can be increased each and every day you stop back to enter again for as long as the contest is open. You must be a resident of the U.S. or Canada to enter.
Get ready for a twisted take on the classic tale as Hansel (Jeremy Renner) and Gretel (Gemma Arterton) have turned pro, coping with the trauma of their childhood captivity by slaying witches for hire. But when the seemingly unstoppable bounty hunters meet their match in an enemy so evil, it'll take all their training, weapons and courage to survive. Revenge is sweeter than candy.