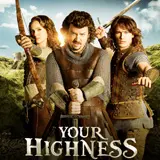 Natalie Portman, James Franco, Zooey Deschanel and Danny McBride team up for medieval laughs in Your Highness, the new comedy from David Gordon Green that opens in theaters everywhere on April 8.
Universal Pictures has been kind enough to give us a Your Highness t-shirt, cup and coaster that will be awarded to the lucky winner of this contest. For a chance to win the Your Highness prize pack, please fill out and submit the entry form below. The odds of winning can be increased each day you stop back to enter again for any or every day the contest is open.
Danny McBride and James Franco team up for an epic comedy adventure set in a fantastical world-Your Highness. As two princes on a daring mission to save their land, they must rescue the heir apparent's fiancee before their kingdom is destroyed. Thadeous (McBride) has spent his life watching his perfect older brother Fabious (Franco) embark upon valiant journeys and win the hearts of his people. Tired of being passed over for adventure, adoration and the throne, he's settled for a life of wizard's weed, hard booze and easy maidens.
But when Fabious' bride-to-be, Belladonna (Zooey Deschanel), gets kidnapped by the evil wizard Leezar (Justin Theroux), the king gives his deadbeat son an ultimatum: Man up and help rescue her or get cut off. Half-assedly embarking upon his first quest, Thadeous joins Fabious to trek across the perilous outlands and free the princess. Joined by Isabel (Natalie Portman)-an elusive warrior with a dangerous agenda of her own-the brothers must vanquish horrific creatures and traitorous knights before they can reach Belladonna. If Thadeous can find his inner hero, he can help his brother prevent the destruction of his land. Stay a slacker, and not only does he die a coward, he gets front row seats to the dawn of an all-new Dark Ages.