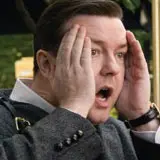 A couple weeks ago we reviewed the new and relatively unknown Ghost Town Blu-ray Disc from Dreamworks (read the review here). There are plenty of laughs to be had not only in the movie but throughout the bonus features as well.
We'd like to give one lucky reader the shot to take home a copy of Ghost Town on Blu-ray on us. For a chance to win, fill out and send in the entry form below. Returning daily to enter again is encouraged to increase the odds of winning.
About Ghost Town: Just got this right now! Updated Synopsis for GT: A spirited romantic comedy, Ghost Town is the story of Bertram Pincus (Ricky Gervais), a cranky Manhattan dentist who develops the unwelcome ability to see dead people. Really annoying dead people. But, when a smooth-talking ghost (Greg Kinnear) traps Bertram into a romantic scheme involving his widow Gwen (Tea Leoni), they are entangled in a hilarious predicament between the now and the hereafter!