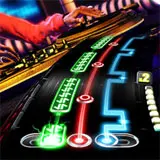 The next evolution in music gaming has arrived with the release of Activision's utterly unique and undeniably addictive DJ Hero for Xbox 360, Playstation 3 and Nintendo Wii.
To help kick off the new franchise that joins future gaming Hall of Famer Guitar Hero, I have five sets of DJ Hero that are being given away in this contest: 2 for Xbox 360, 2 for Nintendo Wii and 1 for Playstation 3. Each has a value of $120 and includes a turntable controller and the game.
For a chance to win DJ Hero, please fill out and submit the entry form below making sure to indicate your console preference in one of the unused fields (most likely address 2, or next to your name if that is being used). You can return any or every day this contest is running to enter again and increase the odds of winning each time. Good luck, DJs!
Launched Oct. 27th, but already being hailed as one of the most fun, innovative and highly-anticipated games of the year, DJ Hero allows players to start the party and not only experience, but to hear music in an all-new way. The game has a turntable controller, developed exclusively for DJ Hero, and immerses the player into a sea of music and DJ culture as they try and master DJ techniques from scratching to crossfading and sampling, also leaving room for creative expression with a variety of effects. Now anyone can be the DJ at their house party!
Now is the chance for living room legends and budding superstar DJs alike to start the party off right with an unprecedented array of talent DJs including DJ AM, Cut Chemist, Grandmaster Flash, DJ Jazzy Jeff, J. Period, DJ Shadow and DJ Z-Trip spinning tracks from JAY-Z to Eminem; Daft Punk to Black Eyed Peas; Rihanna to The Killers; Kid Cudi to Gwen Stefani; and Marvin Gaye to Beastie Boys.