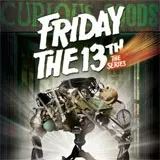 We've teamed up with Paramount Home Entertainment to give five readers a copy of Friday the 13th: Season One on DVD.
There's no Jason, Crystal Lake or hockey masks. This is the classic series fans have been clamoring to see come to DVD for over a decade.
Your chance to win will come from filling out and submitting the simple entry form below. You're welcome to return each day the contest is running to enter again for increased odds. Good luck!
About Friday the 13th The Series: A suspense-mystery series that deals with the supernatural. In each episode, four brave souls embark on an assignment in danger and terror when they track down and retrieve cursed objects.