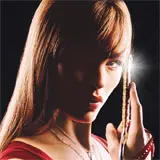 Fox is helping fill in the comic book movie Blu-ray gaps on May 4 with the release of Elektra: Director's Cut starring Jennifer Garner and Terence Stamp.
We are going to award five of you Elektra on Blu-ray as randomly chosen in this contest. Fill out the form below to enter, then optionally return any or every day the contest is open to enter again and increase the odds of being picked each time.
Elektra (Garner) is murdered by a ruthless killer but brought back to life by Stick (Stamp), a blind martial arts master. Stick trains Elektra in the martial art of Kimagure, whose practitioners can control the flow of life and death and live to destroy the evil organization called The Hand. After several years of intense training, she becomes a hired assassin. Upon receiving a contract for $2 million to kill Mark Miller and his daughter Abby. Elektra must make a choice between good or evil in carrying out her deadly mission.