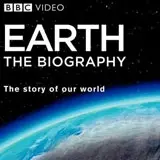 Earth the Biography from BBC Home Video is a natural extension of Planet Earth that examines how our planet works using a variety of high-tech tools including satellite imagery, time-lapse photography and CGI imagery.
We're giving away three copies of this critically-acclaimed series to the lucky winners of this contest. Put your name in the hat for a chance to be drawn by sending in the entry form below. Increase your odds of winning by returning each day to enter again.
About Earth the Biography: This landmark series uses specialist imaging and compelling narrative to tell the life story of our planet how it works and what makes it so special. Examining the great forces that shape the Earth – volcanoes the ocean the atmosphere and ice – the programme explores their central roles in our planet's story. How do these forces affect the Earth's landscape its climate and its history? CGI gives the audience a ringside seat at these great events while the final episode brings together all the themes of the series and argues that Earth is an exceptionally rare kind of planet – giving us a special responsibility to look after our unique world. This is a series that shows the Earth in new and surprising ways. Extensive use of satellite imagery reveals new views of our planet while timelapse filmed over many months brings the planet to life. Offering a balance between dramatic visuals and illuminating facts this ground-breaking series makes global science truly compelling.