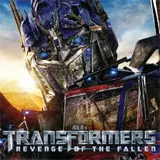 Transformers: Revenge of the Fallen is available October 20 in multiple DVD editions as well as Blu-ray Disc from Paramount Home Entertainment. In conjunction with the release, we are giving away two Transformers prize packs that each include the two-disc special edition DVD of Transformers: Revenge of the Fallen, a Transformers t-Shirt and a Transformers poster.
For a chance to win one of the packs, please fill out and submit the entry form below. You can optionally return any or every day the contest is active to enter again and increase the odds of being chosen a winner each time you enter again. Good luck!
Additional Transformers content tied into the DVD release including personalized phone calls from Optimus Prime/Starscream can be found right here.
One of the most popular, thrill-packed, franchises of all time is back with even MORE ACTION and MORE Autobots and Decepticons! In the highly anticipated Transformers: Revenge of the Fallen, Decepticon forces return to Earth on a mission to take Sam Witwicky (Shia LaBeouf) prisoner, after the young hero learns the truth about the ancient origins of the Transformers. Joining the mission to product humankind is Optimus Prime, who forms an alliance with international armies for a second epic battle.