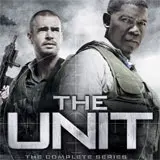 Now available on DVD from Fox Home Entertainment is the fourth and final season of The Unit television show along with all four seasons packaged together in one massive set.
I have one set of The Unit: The Complete Series on DVD that will be awarded to a grand prize winner and two of The Unit: Season Four DVD sets that will go to a pair of runner-ups. For a chance to win one, be sure to fill out and send in the completed entry form below. You are then encouraged to return any or even every day after to enter again and increase the odds of winning each time.
Known only as The Unit, this ultra-secret contingent of Special Forces soldiers operate outside the usual military chain of command. Their very existence is a closely held secret protected by the soldiers themselves. Their wives, who are also in on the secret, strictly adhere to a fictitious cover story that is provided for them. The Unit chronicles a team of unknown heroes who, without ever receiving credit, risk their lives while protecting others.