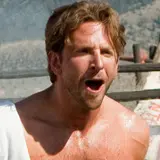 The A-Team starring Liam Neeson (Taken), Bradley Cooper (The Hangover), Quinton "Rampage" Jackson, Sharlto Copley (District 9) and Jessica Biel will see their plan come together on December 14 when the summer action flick debuts on Blu-ray and DVD. To coincide with the film's home video release, we've partnered with Fox to offer three of you a free copy of The A-Team on DVD in this contest.
For a chance to win, please fill out and submit the entry form below. You can increase your odds of being selected one of the three winners each day you stop back to enter again for as many days as this contest is open.
Convicted by a military court for a crime they didn't commit, a daring team of former Special Forces soldiers must utilize their unique talents to break out of prison and tackle their toughest mission yet. It's going to take guts, split-second timing and an arsenal of explosive weapons…this is a job for The A-Team!