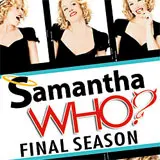 For Christina Applegate fans the show Samantha Who came and went from ABC far too soon. With the second and final season just now available on DVD, we've teamed up with ABC Home Entertainment to offer a set to one lucky reader.
For a chance to take home Samantha Who: The Final Season on DVD, send in the completed entry form below. Return any or every day thereafter and enter again for increased odds with each additional entry.
Christina Applegate returns as the fun, flirty, and unforgettable Sam Newly! Leaving her past behind, Sam is stepping out with a new guy, a new job… and new appreciation for the old Sam's taste in clothes and dance moves. Inspired by her zeal, Sam's got everyone letting go and trying new things. Maybe Sam will find that being good is not such a bad idea. Or maybe she'll learn not to be bad unless she's good at it! The whole lovable crew is back and funnier than ever, finishing with a flourish. Starring Emmy Award Winners Christina Applegate and Jean Smart, along with cast favorites Jennifer Esposito, Kevin Dunn, Barry Watson, Melissa McCarthy and Tim Russ. Enjoy every hilarious episode and revealing bonus feature again and again as you celebrate new life with Sam.