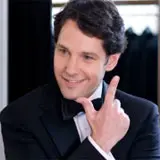 On August 11, Dreamworks and Paramount Home Entertainment are bringing the "bro-mance" comedy I Love You, Man with Paul Rudd and Jason Segal home to Blu-ray Disc and DVD.
You can win one of 3 DVDs of I Love You, Man up for grabs in this deaily entry contest by submitting the completed form below. Daily means you can return any or every day the contest is running to enter again.
In this wildly funny hit comedy, Paul Rudd gets engaged to the girl of his dreams but has not a single guy friend to be his Best Man until he meets the ultimate dude, Jason Segal. Rudd and Segal's "bro-mance" takes male-bonding to hilarious new heights that keep you laughing until the unforgettable last frame.