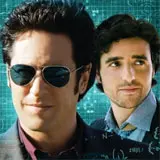 On October 20, CBS and Paramount Home Entertainment released the fifth season of the television show Numb3rs for the first time on DVD.
I have 1 set of this new DVD box set up for grabs in this daily entry contest. Fill out and send in the entry form below for a chance to win it. You can also return any or every day thereafter to enter again and increase the odds of being picked each time.
Numb3rs is a drama about an FBI agent (Rob Morrow) who recruits his mathematical-genius brother (David Krumholtz) to help the Bureau solve a wide range of challenging crimes in Los Angeles. The two brothers take on the most confounding criminal cases from a very distinctive perspective. Inspired by actual events, the series depicts how the confluence of police work and mathematics provides unexpected revelations and answers to the most perplexing criminal questions.