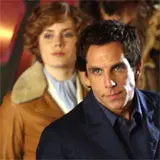 On December 1, Ben Stiller takes on history once more when Night at the Museum 2: Battle of the Smithsonian comes to Blu-ray Disc and DVD.
I have three sets of the single-disc Night at the Museum 2 DVD that will be awarded to three lucky winners. You can take a shot at being one by filling out and sending in the completed form below. You can also come back daily and enter again for as long as the contest is active.
History is larger than life — and twice as funny — in this monumental comedy sequel. Ben Stiller (Meet The Parents, There's Something About Mary) stars as Larry Daley, a former night watchman at the Museum of Natural History, where the exhibits come alive after dark. But now Larry's nocturnal friends are being retired to the archives of the Smithsonian Institution, luring him back for a hilarious, all-out battle against a cranky Egyptian Pharaoh who plans to take over the museum… and the world!