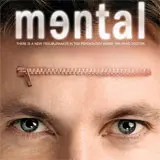 Fox is advertising Mental for those who like House. Instead of a cranky brilliant doctor, Mental offers a cranky psychologist with a trouble past.
The first season of Mental was recently released on DVD and we have one of the new box sets up for grabs in this contest. For a chance to win it, simply fill out the entry form below. You are also encouraged to return any or every day the contest is active to enter again and increase the odds of winning each time.
Get ready to go Mental for this fresh and compelling medical mystery drama with a titillating touch of insanity! As the new Director of Psychiatric Services at Wharton Memorial Hospital, Dr. Jack Gallagher (Chris Vance) has a lot to cope with. Gallagher uses his troubled patients, but his unorthodox methods place him at odds with his quirky colleagues, including his new boss (Annabella Sciorra), who just happens to be his ex-lover. Meanwhile, Gallagher must search for the missing pieces of his own troubled past. Brightly funny and utterly riveting, Mental is not to be missed!