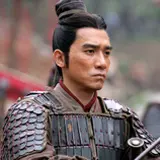 John Woo's Red Cliff starring Tony Leung is one of the most expensive Chinese films ever produced and won six Hong Kong Film '09 Awards including Best Art Direction, Best Costume & Make Up Design, Best Visual Effects and Best Supporting Actress.
To support the March 23 release of Red Cliff on DVD and Blu-ray in the US as part of Magnolia's Six-Shooter Film Series, we are going to award three readers the DVD version in this daily entry entry contest.
To enter, simply fill out and submit the short form below. The odds of being chosen a winner can be increased each time you optionally return daily while the contest is running to enter again.
In 208 A.D., the Han Dynasty Emperor grants permission to the greedy General Cao Cao to form a movement that will pulverize two warlords who stand in his way. The warlords, Liu Bei and Sun Quan, are sworn enemies but know their only hope for survival is to band together and counter the attack. Although outnumbered by Cao Cao's vast and fast approaching army, the warlords put their rivalry behind them and end up surprising all those who doubted their small brigade.