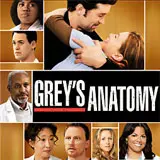 ABC is set to release the fifth and most current season of Grey's Anatomy with Ellen Pompeo, Patrick Dempsey, Sandra Oh and Katherine Heigl on DVD September 15.
If you'd like to have one of these Grey's Anatomy box sets delivered to your door free of charge, fill out and send in the completed entry form below for a chance to win one of two sets of Grey's Anatomy: Season Five we are giving away. Better yet, return any or every day the contest is running to enter again and up the odds of winning each time.
The hottest show on television burns even brighter in its explosive fifth season. Dive deeper into the lives and loves of Grey's Anatomy in this sensational seven-disc set! Your favorite characters struggle and thrive as they enter uncharted territories of life. Discover what happens in the on-again, off-again world of Derek and Meredith, and witness the budding relationship between Cristina and Owen, Seattle Grace's newest doctor. Experience every heart-stopping moment of prime time's sexiest, star-studded drama, complete with never-before-seen bonus features, including one extended episode available on DVD.