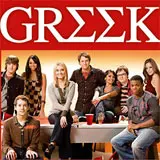 ABC's Greek series continues with the recent release of Chapter 3 on DVD.
I have one Greek: Chapter Three DVD set that will be awarded to one lucky reader randomly selected in this contest. For a chance to be that person, send in the completed entry form below. You can also return any or every day the contest is running to enter again.
The fun and the friendships continue in the engaging ABC Family original series Greek. "School's back in session for the winning college drama," says Damian Holbrook of TV Guide. Chapter Three brings a new year with new pledges and new challenges. Rusty's life takes some interesting twists as he climbs the fraternity ladder, and Casey finds herself torn between two very provocative offers. Enjoy all the infectious fun of Greek: Chapter Three. Featuring exclusive bonus features, including an inside look at your favorite characters, Greek is even better on DVD!